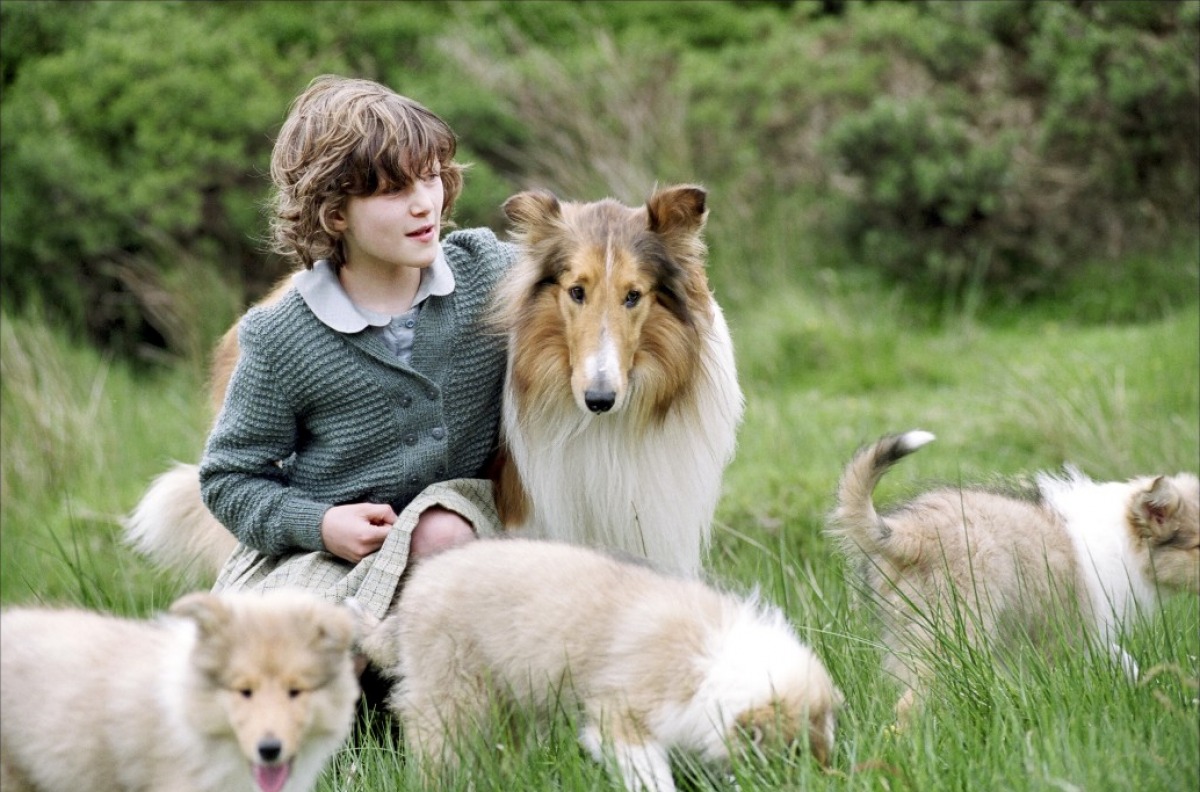 Lassie

'...blissfully restored...enough to bring the most flint hearted viewers to their knees..'
New York Times

'..a transforming moviegoing experience...'
Christy Lemire MSNBC

'... a remake straight from the heart...'
Michael Price (Fort Worth Business Press)

'...one of the best films of the year...'
AARP

'...almost too moving... I was falling apart even before Lassie is taken away...Beautifully shot and with fine work from the whole cast' LA Weekly Beat

'..heartwarming...adorable...captivating...'
Jason Lynch (People Magasine)

'Two thumbs Up'
(Ebert and Roper Show)

'...classic tale gets a new lease of life..'
(New York Magazine)

'...puts it's trust in kids to be grown-up and appeals to grown-ups by returning them to a state of childlike wonderment...'
(The Village Voice)

'...one of the best children's movies in years...'
Jeffrey Lyons (Reel Talk)

'....sure to make even the most heard hearted shed tears...go see Lassie..'
Associated Press

'..if that doesn't bring a tear to your eye then you're a robot..'
Scott Tobias (The Onion)

'...a heartwarming and moving adventure...excellent'
Frank Schek (Hollywood Reporter)

'...stunning remake of the greatest dogmovie of all time..'
Harvey S Karten (Compuserve)

'...a franchise reboot more successful than Batman Begins..
' Gregory Kirshling (Entertainment Weekly)

'What makes this film succeed is the director's quiet skill--he's an adapter in the George Cukor-Carol Reed class--and the all-around excellence of his cast..'
Chicago Tribune

'..uniformly impressive cast...with it's hard edges and tender heart Lassie is an utterly beguiling success...'
Film Journal International

'...intelligent without being smart-alecky, heart-warming without being smarmy and exciting without relying entirely on CGI...' Atlanta Journal - Constitution

'...visual sweep, unfussy pacing and understated acting..' Newsday '..this isn't the usual (read: mindless) family entertainment. Grade: A' Christian Science Monitor

'...leave it to the Brits to take back something that was originally theirs before being usurped by Hollywood and reinvent it into something that's so much better than the traditions they're trying to revive...' 9/10 Coming Soon.net '..it's easily the best Lassie movie since the classic first film..The last 20 minutes or so had me, I confess, in tears. They were fairly earned.....'
LA TIMES

'...There is an unabashed old-fashioned quality to the story-telling, not quaint, not fusty, but very much of another era -- and what a relief that is...'
Wall Street Journal

'...Faultlessly written and directed by Charles Sturridge with a first-rate cast, this is a faithful, exciting and touching adaptation...'New York Post

'....a respectfully committed cast, gorgeous scenery and two sad-eyed leads that will break your heart (the kid and the dog are equally adorable), this is clearly not your typical family film. Which will make it that much more appealing to every member of your family...'
NY Daily News

'...this, surprisingly, is a good movie.'
NY Sun

"It's the loveliest and most moving children's film of the year so far." Newark Star Ledger

'"Lassie" is family entertainment of a very high order.... all you have to do is get them into the theater. "Lassie" will do the rest...'
Detroit Free Press

NEW YORK TIMES REVIEW

The Noblest Collie of All Bounds Anew in the Glen
By JEANNETTE CATSOULIS Published: September 1, 2006

Everything old is new again in "Lassie," the latest film about the beloved pooch with the I.Q. of a grad student and the instincts of a boomerang. Blissfully restored to the time period and location of Eric Knight's 1940 novel, "Lassie Come-Home" —originally filmed by MGM in 1943 — the movie sets us down in a Yorkshire mining village with World War II on the horizon and social inequality front and center.  Goldwyn Films The star of "Lassie" (the 11th film version, by one count) and friend. Readers' Opinions Forum: Movies Opening with a beautifully orchestrated sequence involving Lassie, a terrified fox and a mass of flapping laundry, the movie — the 11th Lassie film, by the producers' count — establishes its working-class turf immediately as miners and their wives confront a pack of blue-blooded hunters. The class conflict continues when the Duke of Rudling (a twinkling Peter O'Toole) buys Lassie from Sam Carraclough (John Lynch), an impoverished miner struggling to feed his stoic wife, Sarah (Samantha Morton), and 9-year-old son, Joe (the adorable Jonathan Mason). For the remainder of the movie, Lassie will run, limp and crawl her way back to the family she loves, a journey that will require her to brave more than 500 miles of countryside and innumerable cameos by well-known British actors. You'll be pleased to know there are no wells. Elegantly directed by the veteran British filmmaker Charles Sturridge, best known for stiff-upper-lip fare like the television mini-series "Brideshead Revisited," "Lassie" approaches its classic tale with old-fashioned charm and not a trace of satire. As Lassie is transported to the Duke's summer estate in the Scottish Highlands, the movie's theme of forced separation is doubly underlined by Sam's heading off to war and the Duke's granddaughter, Cilla (Hester Odgers), being packed off to boarding school. This last occasions a lovely, tart scene in the school dormitory in which a dismayed Cilla is faced with row upon row of miserably numbered cots. "Just like the army," boasts the headmistress. Moving easily from the breathtaking shores of Loch Ness to the busy streets of Glasgow and the hills of Northumberland (the movie was filmed in Scotland, Ireland and the Isle of Man), "Lassie" balances cruelty and tenderness, pathos and humor without ever losing sight of its youngest audience member. And whether cringing before the Duke's vicious kennel man (Steve Pemberton) or performing alongside a traveling puppeteer (Peter Dinklage), this Lassie exhibits a repertory of facial expressions that would put Jim Carrey to shame. When little Joe — in a scene that perfectly evokes the British school system's once-joyful embrace of corporal punishment — gets whacked on the wrist by a ruler-happy teacher, the sight of a sorrowful Lassie licking the welts is enough to bring even the most flint-hearted viewers to their knees. Like the best kids' movies, "Lassie" is exquisitely tuned to the way a child sees the world. The journey from England to Scotland seems to encompass several time zones, and a glimpse of Nessie aligns our shaggy heroine with the creatures of Celtic folklore. And though adults may take issue with the film's ultimate capitulation to the power of patronage, tykes will just be happy that Lassie has come home once more to the multiplex where she belongs.