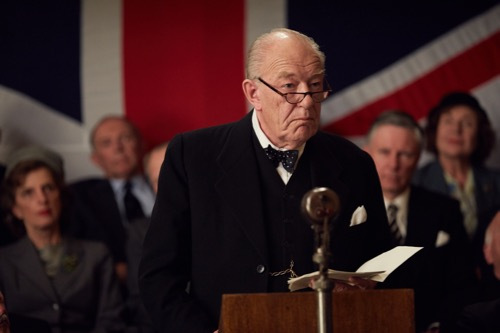 LA TIMES
Michael Gambon is the Churchill of all Churchills in 'Masterpiece's' powerful 'Secret'

Mary McNamara
Albert Finney, Richard Burton, Bob Hoskins, Timothy Spall, Peter Sellers, Ian McNeice — these are just a few of the actors who have played Sir Winston Leonard Spencer-Churchill on film and television. Two upcoming feature films will add Gary Oldman and Brian Cox to that formidable list, but it is difficult to imagine any of them topping the ragged wonder of Michael Gambon's performance in "Churchill's Secret," which airs Sunday night on PBS' "Masterpiece."
Seriously, "Michael Gambon as Winston Churchill" all but precludes a review — of course he's great, he's always great — but here we are. And before we go any further, let's dispense with the unfortunate title. The film is based on a novel but the "secret" isn't some salacious, sensational or deeply private revelation or speculation. No one is rooting through Churchill's underwear drawer, thank heavens.
Instead, it refers to the major stroke the great man suffered in 1953 during his second term as Britain's prime minister.So not a secret, except at the time. As inevitably the case when a world leader physically falters, the event was kept from the British citizenry and the world. Churchill was taken to his family home in Kent where his family, doctor and a small number of advisors waited to see first if he would survive, and then if he would be able to remain prime minister.
This small and finely wrought film is about that time.
Opening with the fateful night during which the still remarkable orator (Gambon) begins fumbling for words during a dinner at Downing Street, "Churchill's Secret" immediately introduces the other larger not-secret secret of Churchill's life: The national monument and international icon, the voice that miraculously rallied a small island nation when there was absolutely no good reason to believe it too would not succumb to German invasion, was also just a man.
Subject, obviously, to physical ailment (this isn't his first stroke), but more thematically important, also to the inevitable tension between work and family, duty and arrogance, ambition and love.
Indeed, we see Clementine Churchill (Lindsay Duncan) and their youngest daughter, Mary (Daisy Lewis), before we see Churchill himself. Having already made some last-minute seating adjustments, Clemmie is the first to notice her husband's stutter and, when he recovers to end his speech, it is she who quickly takes control. Graciously yet firmly, she clears the room and quietly issues the necessary orders — call the doctor, shut the door, clear the house, don't let the servants in — before she can say what she really wants to say: "Just hold my hand, Winston, just hold my hand."
It's a small and fleet scene, a preface really, but in it Duncan lends Clementine such an astonishing mix of love, fear, control and weary nerve that it creates a portrait of a marriage in a matter of moments.
Meanwhile, elsewhere in London, another strong woman stirs. Millie Appleyard (Romola Garai) is a nurse so kind and skillful that other nurses come to her for advice. It is only a matter of time, then, before she is pulled into the tense and silent group assembling at Chartwell, the Churchill estate.
As the family gathers, the very real possibility of Churchill's death forces all manner of bitter and heated encounters. The eldest children, Randolph (Matthew Macfadyen) and Diana (Tara Fitzgerald), become openly contemptuous of what they consider their father's lifelong narcissism and their mother's willingness to nurse it.
The histrionics of one dinner table rise to a pitch that borders on manipulative — even fathers who were not prime minister during a world war put work over family at the time just as many mothers, particularly of the Churchills' class, put the needs of their husbands above their children — but Clemmie manages to ground the scene enough for it to make its point.
As Churchill's doctor Lord Moran (the always fine Bill Paterson) reminds her, the cost of greatness is high and usually not paid by the great themselves.
Which, intentionally or not, the film itself goes on to prove: From the moment Gambon's Churchill shows signs of (spoiler!) life, it is difficult to care about anything else.
Fighting against his own wayward flesh, the great orator must learn how to form simple words, the world leader must regain the strength to stand while those around him push and pull. One part of the Conservative Party wants him to stay in power, another hopes to force his retirement, and Clementine vacillates in between; obviously she wants her husband well, but she would also like him home. Finally. "He has done enough," she says repeatedly.
Only nurse Appleyard, free from any emotional or even political baggage (she voted for "the other guy"), treats his recovery as simply that — a man struggling against diminishment. With his drooping face and bleary eyes, Churchill is clearly aware of all that roils around, and within, him but Gambon finds the small, essential flame of his spirit and blows it into a beacon.
The presence of Appleyard allows both Churchills to open up in scenes of powerful emotion as yet another non-secret secret is revealed, and Duncan's Clemmie is a masterpiece of conflict and surrender. "We would not be here without him, and he would not be here without you," Lord Moran says, and we believe him. But Duncan also lets us see how little daily sustenance that knowledge brings.
Because then Churchill sits up, or rolls in, or struggles to speak and we have eyes for no one else.
'Masterpiece Classic: Churchill's Secret'
Where: KOCE
When: 8 p.m. Sunday
Rating: TV-PG (may be unsuitable for young children)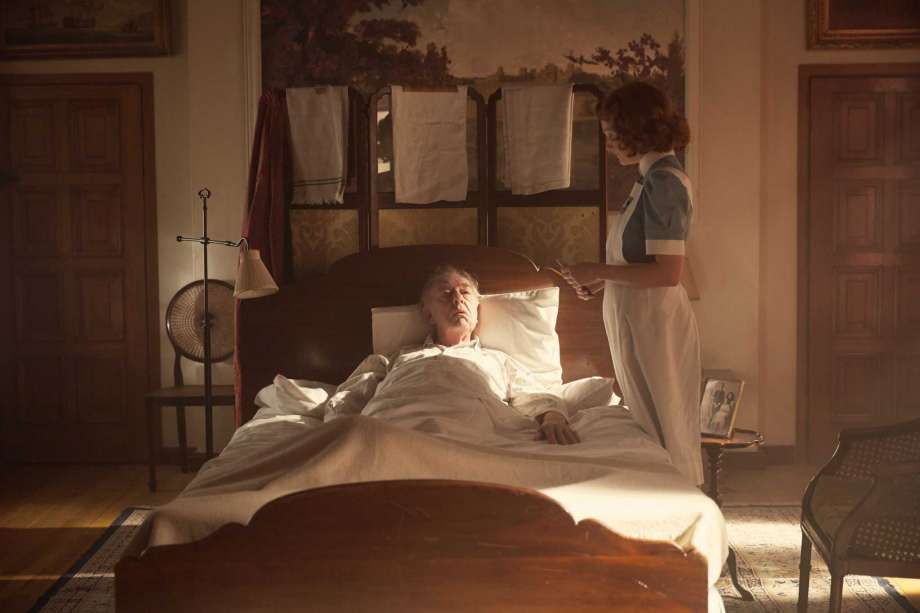 SAN FRANCISCO CHRONICLE 8.9.16
PBS' seemingly terminal case of Anglophilia can be irritating at times, but then it imports a show of unimpeachable quality like "Churchill's Secret," and all is forgiven.
Michael Gambon plays the great man in an all-star production airing on Sunday, Sept. 11, at 8 p.m. No, he doesn't much look like Sir Winston Churchill (although, in a feature about the making of the film, he says he thinks he does), but Gambon is such an accomplished actor, he could probably breathe new life into Bambi.
The film is adapted from Jonathan Smith's 2015 novel, "The Churchill Secret," and is based on fact. In 1953, while at 10 Downing St., Churchill suffered a major stroke while hosting a state dinner. We see him holding forth with dry wit, and then all of a sudden, words fail him. It's all hushed up and papered over, the guests are quickly dispatched, and it's decided that Churchill must be taken out of the city to his stately brick home, Chartwell, in Kent as his condition worsens.
His wife, Clementine (Lindsay Duncan), and Joint Principal Private Secretary Jock Colville (Patrick Kennedy) take charge to hide the news of the stroke from the public. His physician, Lord Moran (Bill Paterson), enlists the service of a young nurse named Millie Appleyard (Romola Garai, "The Hour"), who is kept in the dark about her new job until she arrives at Chartwell. Millie is the only fictional character in the drama. Almost everyone believes that Churchill is dying, but the country and the Tories are in difficult straits because the prime minister's heir apparent, Antony Eden (Alex Jennings), is also ailing and recovering from surgery in Boston.
The situation reveals much about the personalities of the characters, including Lady Churchill's reluctant resignation to having to share her husband with the world, and the narrow and sometimes childish behavior of his children, Mary (Daisy Lewis, "Downton Abbey), Randolph (Matthew Macfadyen, "Ripper Street"), Diana (Tara Fitzgerald, "Jane Eyre") and Sarah (Rachel Stirling, "The Blechley Circle"). The drama is anchored by a significant parallel between Lady Churchill and Millie. Just as Lady Churchill has had to suspend her personal priorities for home and family because of her husband, Millie is scheduled to leave a hospital job she loves to go to New Zealand to join her fiance. The more she understands Lady Churchill's sadness at not being able to command what seem like her husband's final hours for herself and her children, the more Millie comes to reconsider her plans.
The adaptation by Stewart Harcourt is superb. It's clearly a challenge to keep the story from being entirely mawkish, but Harcourt manages to invest it with authentic sentiment throughout. Charles Sturridge's direction is attentive and well paced. He knows when to linger on a particular character to convey unspoken emotion, and is a full partner with Harcourt in ensuring emotional authenticity.
Oh, but the performances. This is why PBS can keep the channels open with the British as long as it wants to. Gambon is magnificent, making us feel every second of Churchill's frustration and fear as the stroke robs him of his ability to speak, and the metaphorical weight of aging.
Duncan is every bit as good, as a woman who has never stopped both loving her husband and missing his presence, even when they are in the same room. She is a political wife, practiced at maintaining proper distance and decorum. But she has never ceded her personal strength to her official role in Winston's life.
Garai, who dazzled in the adaptation of "Atonement" as young, dangerous Briony and displayed her fierce, uncompromising intelligence in "The Hour," is equally fine here. Millie is, in fact, thoroughly modern — realizing that she can choose her career over a life given over to a future husband's priorities.
Viewing this lovely film at a time of heightened transparency, given the Internet and social media, it may seem astounding that anyone could keep a secret like Churchill's. But in fact, the British press lords were called to Chartwell and told to keep the minister's condition under wraps, and they agreed.
We'd never want to go back to such an arrangement, of course, but you can't help wonder what it might be like if we could put a cork in a few presidential candidates, at least for a few hours a week.
David Wiegand is an assistant managing editor and the TV critic of The San Francisco Chronicle. Follow me on Facebook. Email: dwiegand@sfchronicle.com Twitter: @WaitWhat_TV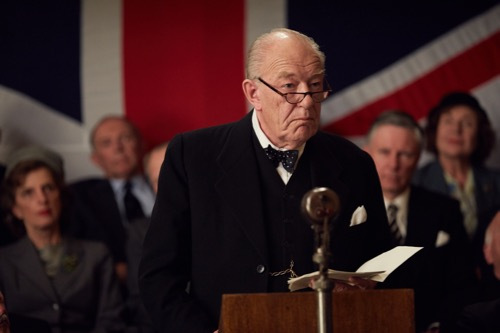 The Guardian 29.2.16
Michael Gambon triumphs in a picture of hope, power and ghastly children

Gambon was screen-owningly mesmeric as Churchill, holed up in his family home recovering from a stroke that he was trying to keep quiet A British Conservative prime minister in his second term has some delicate international negotiations approaching. The next Conservative prime minister is growing impatient for power, although he does his best to mask his ambition. Not 2016, but 1953. And that's about it for similarities. Oh, except that the PM-in-waiting – Anthony Eden – had been to Eton and Oxford, but haven't they all ... Actually no, because the (not yet) outgoing one – Winston Churchill – hadn't (Harrow, Sandhurst). This is Churchill's Secret (ITV, Sunday), adapted from the novel by Jonathan Smith. A shame they changed the name, from KBO: The Churchill Secret, when KBO (Keep Buggering On – in a Churchillian kind of way) is so much a part of it. Churchill's Secret sounds like a line of male underwear – staunch, union-jack print, perhaps with a cigar poking through the fly ... Although the man himself favoured pink silk pants.

Anyway, it's 23 June (EU referendum day!) 1953, and Churchill has what turns out to be a stroke while making an unsurprisingly excellent speech at a Downing Street dinner for Alcide De Gasperi (one of the founding fathers of the EU as it happens, it's all coming together). Winston, now 78, loses consciousness, and when he comes round, he has very little sensation on one side, his speech is severely impaired and his heart weakened. So, does he hand over to Eden, or Rab Butler (because Eden's not so tickety boo himself at the time)? Does he hell. He keeps buggering on. Well, actually he's spirited away to the family home at Chartwell, without the nation knowing, and the press obligingly keeping schtum (can you imagine?). Here in Kent – and this is where the novelist's imagination comes in – a wholesome young nurse named Millie Appleyard is employed to try to get him into a fit state to be a statesman again, and hold off the circling vultures. She may be a dramatic device, a foil, but it's still a touching relationship, the old warhorse and the Yorkshire lass whose family would never have voted for him. She's his match though, in resolve, and board games, and the poems of AE Housman. What starts off as mutual respect soon becomes genuine affection. No wonder Clemmie gets a bit jealous. Lovely performances all round: from Romola Garai as ballsy Millie; from Lindsay Duncan as Mrs C – classy, dignified, loyal but weary from the burden of being married to the Greatest Man in the World; and especially from Michael Gambon as the main man, making up for not looking very like much like Churchill by being utterly, screen-owningly mesmeric as an old man refusing to give up. Even more fun are Churchill's offspring: Diana, Sarah, Mary and Randolph – squabblers and alcoholics and casualties of never having lived up to their father's expectations or name. (This is why I have unselfishly shunned greatness myself, for the sake of my own children's sanity and health.) They're patronising and cruel to anyone who isn't one of them; to each other, they shout, cry and stomp about as the sun streams diagonally through the windows (too small, many of those windows, I think, at Chartwell, where this was actually shot). Matthew Macfadyen's Randolph is splendidly ghastly. I can imagine the sitting rooms (or probably drawing rooms) of families with the names Churchill and Soames last night, with descendants gathered round to watch and the fury rising. Mummy, Daddy (or probably Mama, Papa), Uncle Randoph, they weren't anything like that. Yes, they were. No, they weren't. Shut up. Typical ITV, darling. Dirty Martini, anyone?


In my front room, it – and they – went down very well. Those narky siblings act like a sort of cheese to offset the sweet sentimentality of the Winnie-Millie relationship. Maybe the Marigolds that Winnie hands to Clemmie – a substitute for the words they've never been able to exchange about their daughter, Marigold, who died – are a bunch too far. But it was impossible not to be moved by their stoical sorrow. By all of it, in fact, a lovely picture of hope and power and family and growing old. Quality Sunday-evening period drama is not the preserve of the BBC. Shame it clashed with The Night Manager, not that clashing matters any more. Catch up if you missed. Hey, that sorrow – the unimaginable and unbearable sadness of losing a young child – is something else that Churchill shares with the current occupant of No 10; maybe the attempted parallel wasn't so daft. But then it's him in warmongering, we'll-fight-them-on-the-EU mode, who many – certainly Cameron himself – would see as the more Churchillian. Bugger.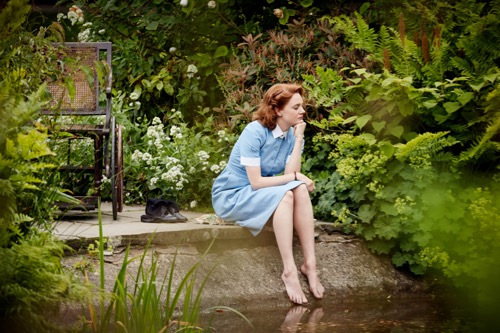 Churchill's Secret
Rating: *****
Weak, sick and totally believable, Gambon's Churchill was sublime:
By Christopher Stevens for the Daily Mail
Published: 02:36, 29 February 2016

With the Churchillian panache that consisted of half a quip and half a snarl, Sir Michael Gambon rumbled: 'Growing old is not for cowards.' Never was a line more heartfelt.

The 75-year-old actor openly confessed last year that he was no longer able to remember his lines and could not continue on stage. That has brought an unexpected bonus for TV viewers because, cut adrift from his beloved theatre, Gambon is indulging in more television — as the drunken photographer in Fortitude, for instance, and the bullying parish council chairman in The Casual Vacancy.

But he took on perhaps the bravest role of his career in Churchill's Secret (ITV). By his own admission his powers are waning, yet he is willing to measure himself against a regiment of his contemporaries, including Richard Burton, Robert Hardy and Albert Finney, who have played Sir Winston. More than that, Gambon portrayed him at his lowest ebb — half- paralysed in bed at his Chartwell home in Kent, barely able to hold a glass to his lips, but fighting to keep his grasp on political power.

Following a series of strokes, Churchill's mind was wandering. He forgot names, lost his train of thought and sometimes lapsed into childish songs. Gambon made it look as natural as breathing, but then snapped back to reality in brief flashes. His depiction of Churchill's first attack, as he addressed a dinner table at Downing Street, was completely convincing. He didn't have to loll or drool: it was as though a burst of radio static had blurred his brain. Director Charles Sturridge added visual clues, with bubbles of coloured light popping on the screen, but there was no need. Gambon's acting told the whole story.

For the first few minutes, I was concerned that this drama might show too much relish at Churchill's frailty, as Meryl Streep did in her distasteful performance as dementia- stricken Margaret Thatcher in the 2011 movie The Iron Lady. But this was not a prurient or prying film. In recent TV productions, we have seen Churchill portrayed at almost every age — a cocky Cabinet minister at the outset of World War I, an officer in the trenches, a bulwark against organised crime in the Twenties, a rejected war hero finding solace in painting. No other figure from British history appears so frequently in drama and history programmes. Why shouldn't we see him when he's weak and sick, and beset as he often was throughout his life by weaker men who want to see him gone?

This time, those men included his son Randolph, played by a rotund Matthew Macfadyen as a bitter drunkard with a venomous line in snobbery. One of the best moments in a script crammed with excellent dialogue came when he dismissed his father's private secretary, Jock Colville, as a 'greasy little margarine-eater'. The whole production was so well done that it even used the adverts cleverly to break up the 130-minute drama into five acts.The middle section, where the Grand Old Man's martini-swilling children briefly descend on Chartwell to assess whether he's dying, was a miniature masterpiece, set inside a larger one.Weak, sick and totally believable, Gambon's Churchill was sublime:

CHRISTOPHER STEVENS reviews last weekend's TV